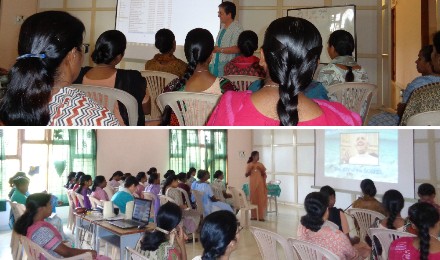 We would like to share with the whole Congregation some important events that took place in the month of April and May. We as a Province were blessed with a special time of intensive formation course that was held in Shanthi Casiciaco, in Kammasandra, Bangalore. We were very fortunate to have Sr. Piedad Pacho, the General Superior and Sr. Alangara Mary, the General Councillor, who enriched us by giving us some sessions during the intensive formation course, which were meant to revive our missionary identity and our Congregational spirit. It was a moment of great joy and zeal to learn the song "Profetas de Amor", along with Sr. Piedad, which intensified our Congregational unity. Thank you dear sisters for your availability and for instilling the spirit of the 125th anniversary. These moments were a great force of motivation to celebrate May 6th profoundly.
Another important event was the profession of perpetual vows of four sisters, Sr. Bridgita Anto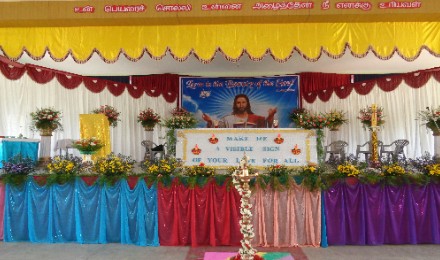 ny, Sr. Angela Mary Anthon
y Samy, Sr. Jesu Arockia Mary Yagappan, Sr. Lath Selvara (Maria Rose).. There is nothing more beautiful in the life of the Congregation than the profession of perpetual vows of sisters. It was also a time of renewal of our vows along with the sisters professing their final vows. It took place on May 1, five days prior to May 6th, an important preparatory step to beginning the year of our foundation.