We celebrated our 125 years of our foundation of our congregation on 26th of June 2015. The celebration began with a reading from the Gospel
Then there was a welcome dance by students. Bharathanatiyam
There was brief history of Augustinian Missionaries were read. Through the history the students and teachers came to know much about Augustinian sisters.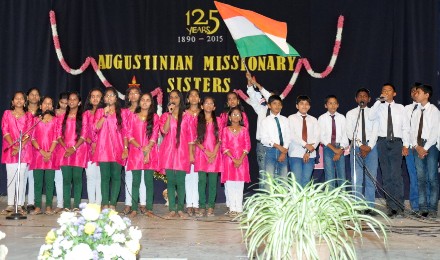 Life is all about learning school life is a preparation to face the challenges, mould our character and mental attitude, so f feel glad and honored to share life in A.M.S. For most of the students in is a cherishing memory and unforgettable moments, I belong to the first batch who stepped in the soil of Augustinities. There is a saying "School is a nursery of life" that is what one learns in school remains with us for the rest of our life. That became true in my life too. Our sisters taught us discipline, honesty, punctuality, respect to the elders etc. Nest to this utmost importance were given for studies classes were held regularly slow learn were taken care by the sisters, individual attention was paid to them, even during night sisters supported us and stayed with us to clarify our doubts. They loved cared and guided us to the right directions. A lot of importance were given for character formation and acquire good principles of life, and enabled us to face the world. Now I am proud to say, that I belong to such a noble and worthy institution working as a staff in calculating fostering the values, whatever I have inherited from the sisters. -Miss. Divya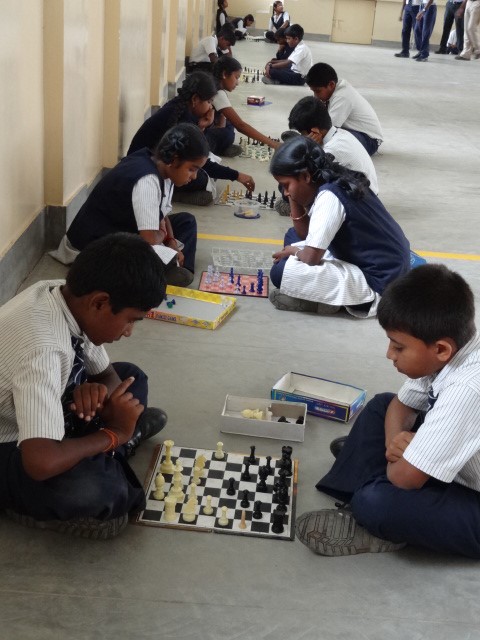 With the grace and blessing of God I began My service in St. A.M.S under the endearing care of A.M.S. I thank the almighty for having helped me through these sisters who opened my eyes and widened my horizons. The school nurtured and guided me. The love and service of the sisters, and their commitment for the welfare of the poor children moved me to dedicate myself. Today as a staff I feel very proud to see our school growing to its prime position with 100% results in academic and discipline. The school provided tremendous opportunity to develop our skills of serving the poor and need, I am very glad to serve in this intuition being motivated by the sisters. Our school is nurturing ground for individual holistic development to make effective contribution to society in a dynamic environment -Mis. Buela
Education is one of the most important sources of empowerment for individual I am very proud to say that our sister's have provided us ample opportunities by combining academic excellence with exllensive curricula and extra curricula activities. Augustinian Missionary Sisters through their mission turn us intellectually enli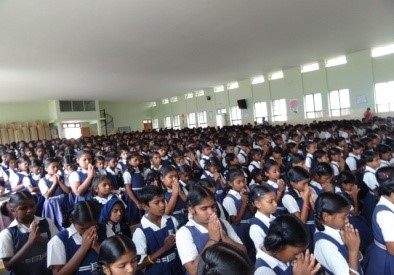 ghtened, morally upright emotionally balanced young students, and empowered us to become builders of humane and egalitarian society. Today A.M.S stands with its name and fame echoing all around to our area the institution which provides shelter to the poor and the marginalized by bringing up the down Darden to the main stream of the society, through the quality education. This Mission of sister's here in their locality became the real torch to the poor of the poorest, sisters have not only aimed at our education but made us to become sensitive human to reach out in love and service. We are sure our school will always be a beacon of hight guiding the destiny of us and for the future generation too. Harshitha IX –
Indeed, it gives me immense pleasure to share about my school. I am proud to say that our school with a strong Christian tradition forms us in depth caring spirituality, joyful service to others, our school offers a unique family-oriented educational environment where all students are motivated to fully develop their talent and colossal skills. Our school provides an innovative, personalized learning atmosphere for neutering us. In sense of self and personal identity. And our school is balancing academic work with a wide range of extra – curricular opportunities and values sporting and cultural achievement equally.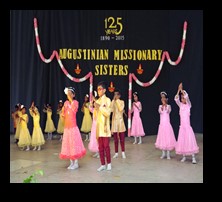 My school provides me a great platform to identify myself. The only way to express my deepest gratitude to my school is to make it proud. It makes me to develop myself and improve my communication skills and equips myself with successful principles, my school has taught me to focus on opportunities, and it has taught me how to score well and how to succeed in life.
Our school treats everyone equally as children of one blood irrespective of gender, religion, caste and social and economical status. Our school is the unique and special and best. Our school is setting bench mark for profound spirituality. Outstanding academic excellence, top – class, moral uprightness, magnanimous cultural tolerance of our school makes difference in the life of us. Manoj kumar IX – A